Da Nang really does have so much to offer. From water sports, hiking up mountains, and visiting vibrant amusement parks – there are so many things to do in this coastal town. This former French colonial port is now a vibrant city and seaside resort boasting beautiful beaches and some impressive cultural attractions. 
With so much to explore in Vietnam's third-largest city, here are the 25 top things to do in Da Nang…
MUST-DO
Chill Out On My Khe Beach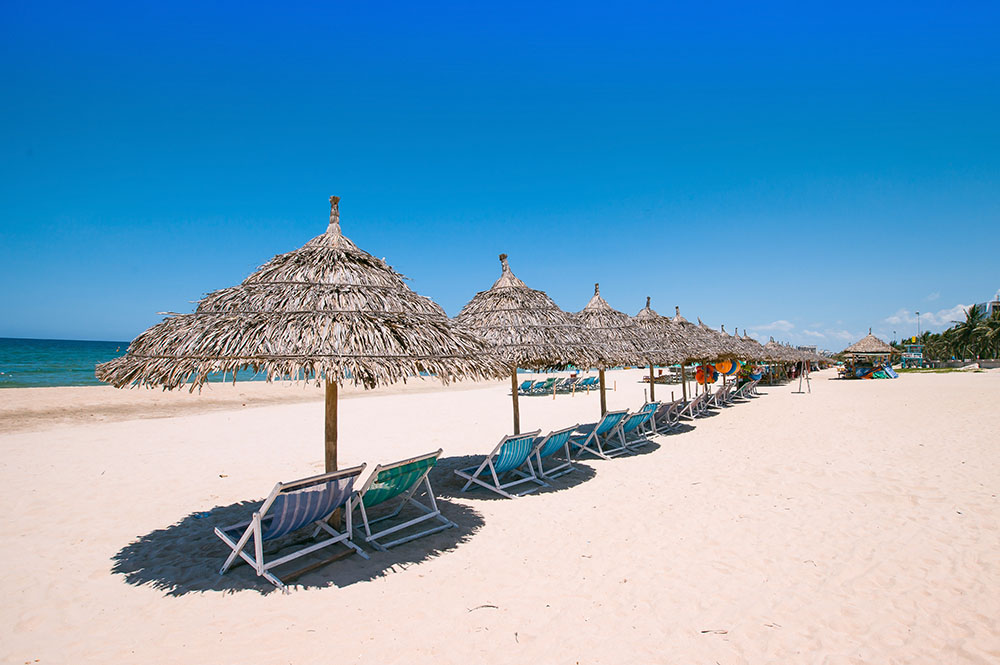 No trip to Da Nang would be complete without a chilled beach day on one of Vietnam's most picturesque beaches. Listed as one of the most attractive beaches on the planet' by Forbes magazine, My Khe Beach is renowned for its 20-mile stretch of white sands, clear turquoise waters, and Miami-vibed sporting activities like surfing and volleyball.
Locals are known to exercise & meditate there between 5-6 am on the weekends. Get there early to experience it for yourself!
Relax, sip on some fresh coconut water and soak up some rays on this iconic beach once used by American troops in the Vietnam War for some R&R. There's even a handful of high-end resorts nearby should you be in need of pampering or luxury dining.
Included in the Central Vietnam Tour
Visit Ba Na Hills
Prepare to be amazed by the hidden gem that sits above the clouds of DaNang, Ba Na Hills. This french-inspired hilltop town resembles a mini-Europe and was built by French colonizers in 1919 as an escape from the Vietnamese heat. We recommend spending a whole day here to give yourself enough time to explore everything (see below for our top picks).
The price for entry includes the cable car to get you to the top of the town, as well as most attractions.
Included in the Central Vietnam Tour
Explore the French Village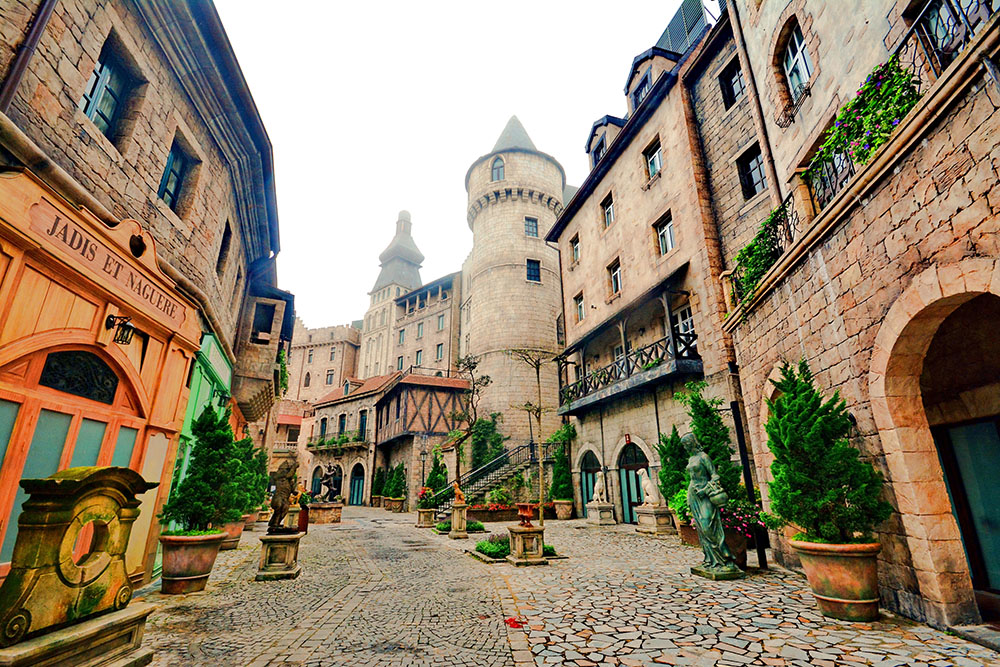 Image credit: Jarung H / Shutterstock.com
Whilst in Ba Na Hills, take a stroll through the cobblestoned streets of the famed French Village. Once the settlement of French colonizers, the village's Parisian-style architecture was modelled after genuine 19th Century villages of France. Its renaissance architecture was inspired by real European buildings and is decorated with churches, shops, restaurants, and hotels.
Included in the Central Vietnam Tour
Take a Ride at Fantasy Park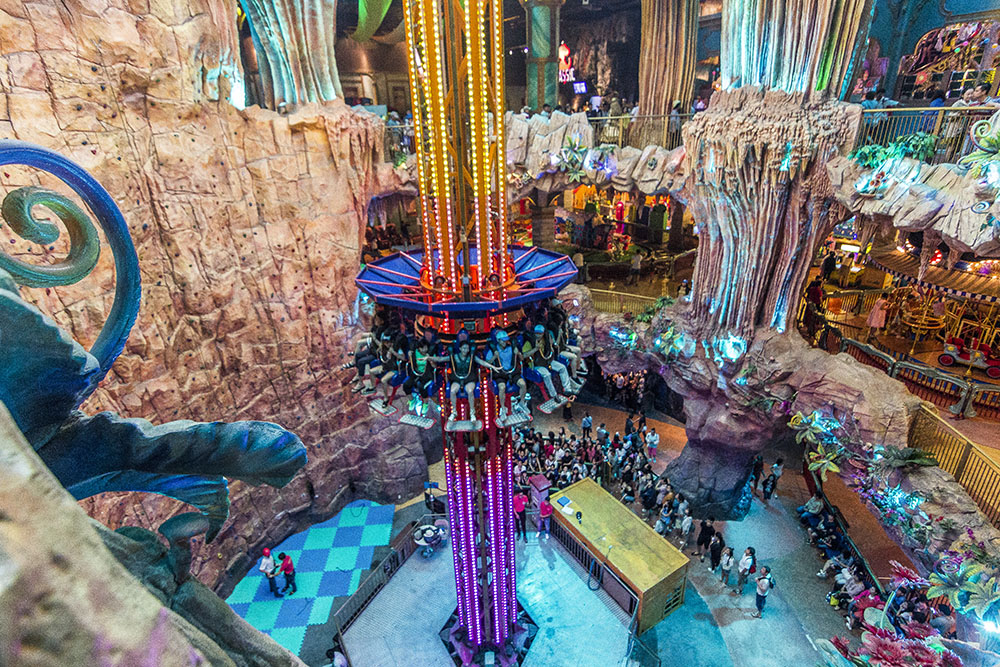 Image credit: Saigoneer / Shutterstock.com
Fantasy Park in Ba Na Hills is an absolute must-visit. This medieval-style amusement park has been dubbed as 'one of the most modern indoor game centres' in Asia. It was inspired by two novels by Jules Verne: 'Twenty Thousand Leagues Under the Sea' and 'Journey to the Centre of the Earth'. It is the largest entertainment centre in Vietnam and features rides, arcade games, 3D cinemas, a climbing wall, and a waxwork museum. If you're an adrenaline junkie, be sure to brave the Drop Tower.
Included in the Central Vietnam Tour
Take A Stroll Over The Golden Bridge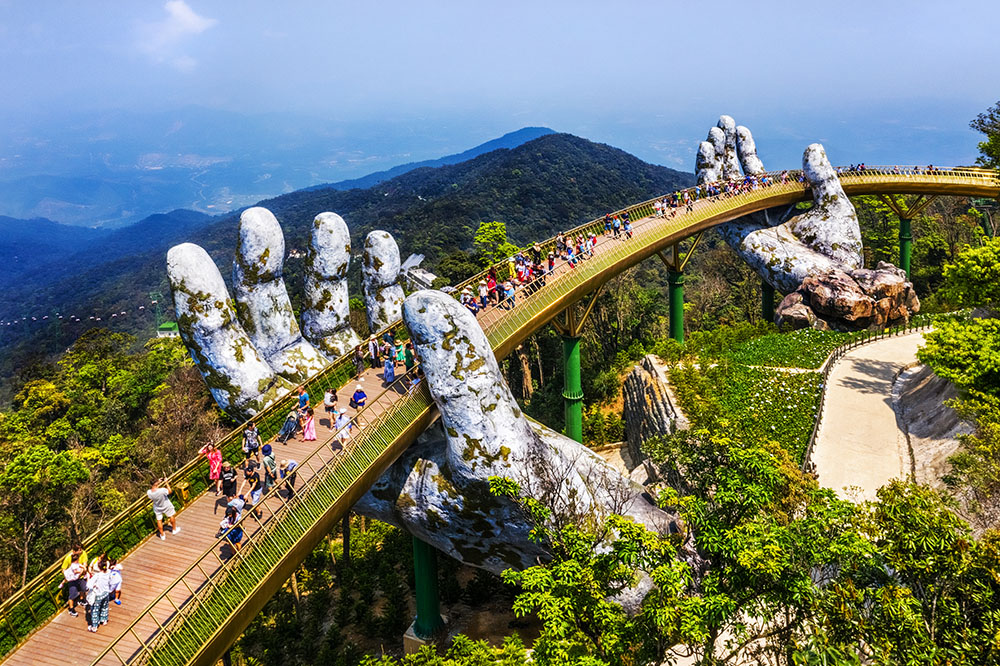 No trip to Da Nang would be complete without visiting the infamous Golden Bridge. Whilst you're in Ba Na Hills, take a walk over one of Vietnam's newest architectural additions, the Golden Bridge. Held up by two enormous stone hands, this 150m long pedestrian bridge provides a breathtaking view of the South China Sea.
Included in the Central Vietnam Tour
RELIGIOUS
Chua Phap Lam Pagoda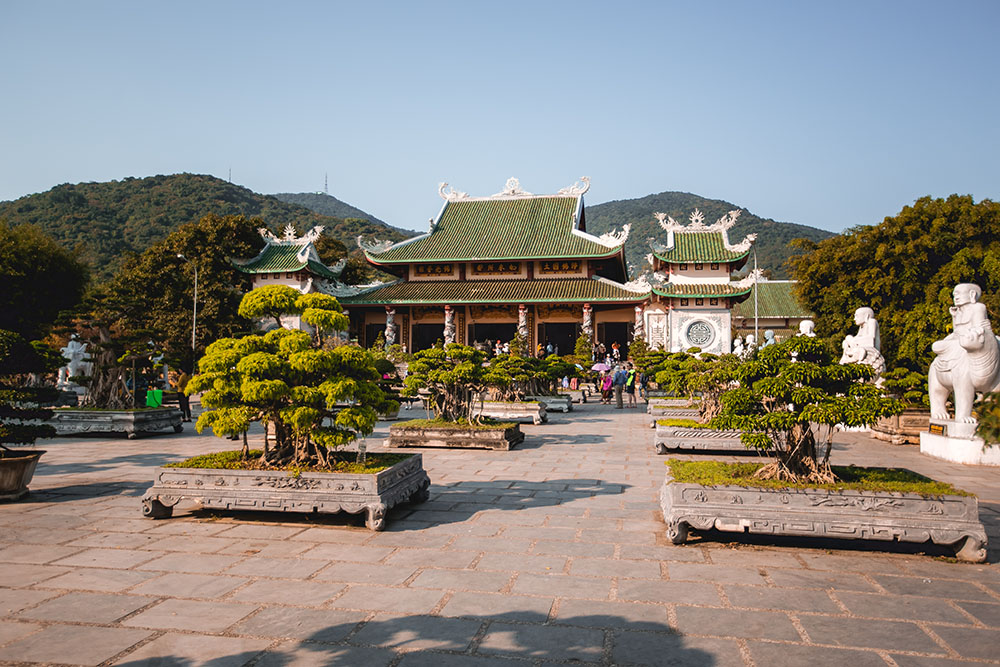 Image credit: Em7 / Shutterstock.com
Despite the city centre's location, Chua Phap Lam Pagoda is extremely peaceful and relaxing. The two-story temple is located amongst beautifully manicured gardens that are dotted with Buddhist sculptures and statues of the Goddess of Mercury, as well as Dai The Chi Bodhisattva.
Da Nang Cathedral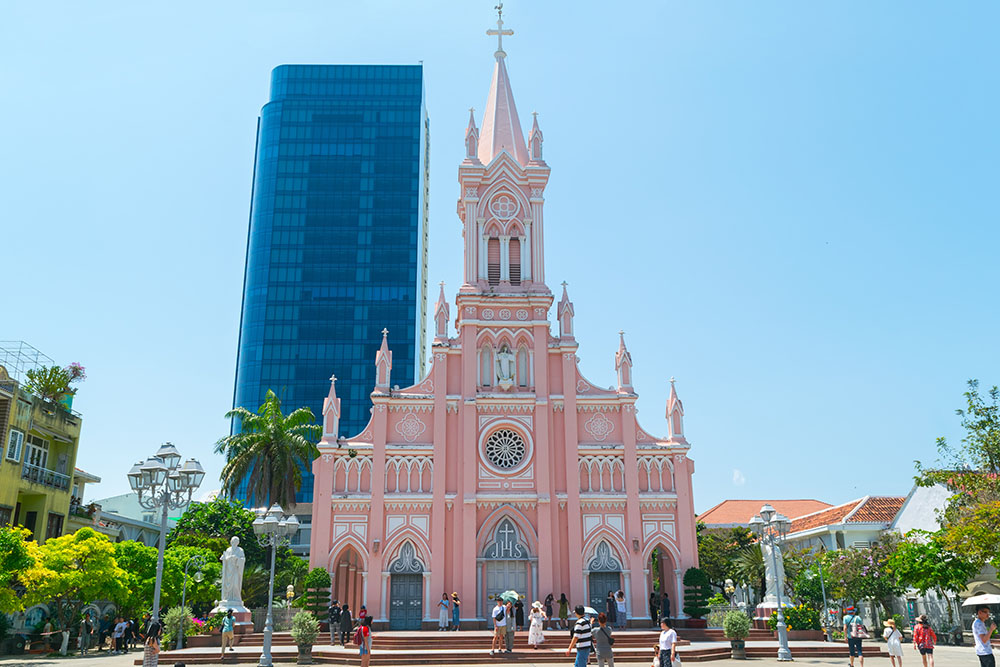 Image credit: siraphat / Shutterstock.com
Built by French priest Louis Vallet in 1923, the Da Nang Cathedral has a reputation as one of the most unique catholic churches in Vietnam – partly because of its perfect pastel-pink hue. Standing at 70 metres, the gothic-style church is also known as Con Ga Church (Rooster Church) due to the imposing bell tower that's topped with a rooster weathercock.
HISTORY
Check Out Ho Chi Minh Museum (Fifth Military Division Museum)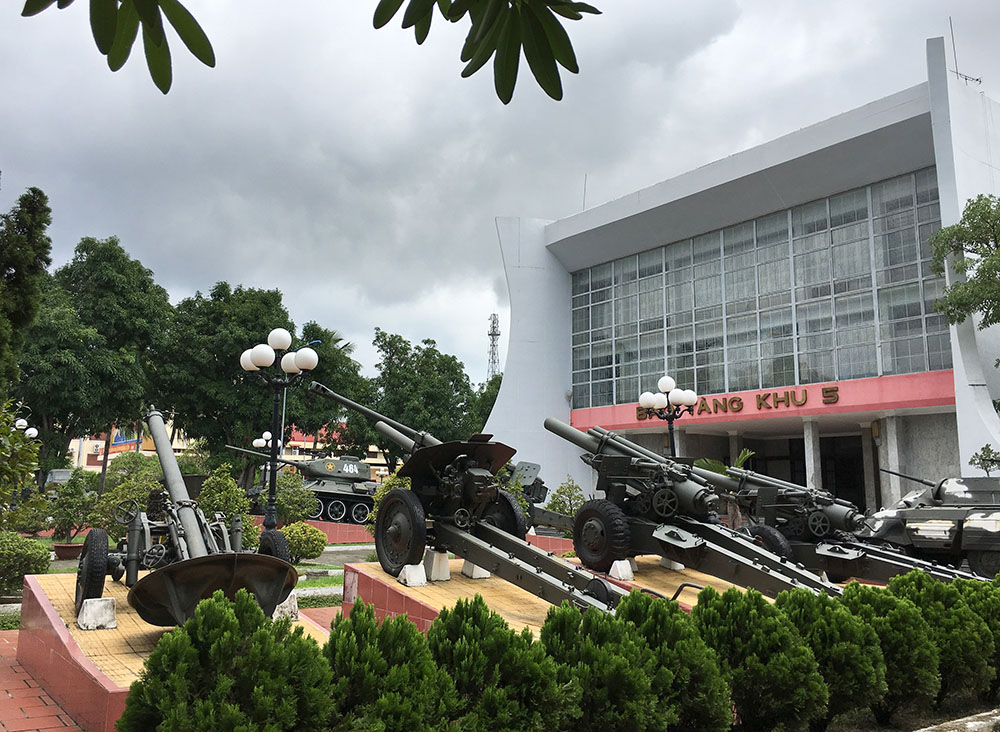 Image credit: withGod / Shutterstock.com
Throughout Vietnam, you'll find museums that help to showcase stories of past wars. The Fifth Military Museum, like many others, is devoted to the life of Ho Chi Minh, from his early childhood to becoming a national hero. It offers a glimpse of Vietnam's tumultuous past with extensive displays of news articles, war relics, and photographs taken by soldiers of the Fifth Military Division. Hidden behind the museum is also a Replica of Ho Chi Minh's residence & separate museum dedicated to him.
SEE
Stroll Over Cau Rong (Dragon Bridge)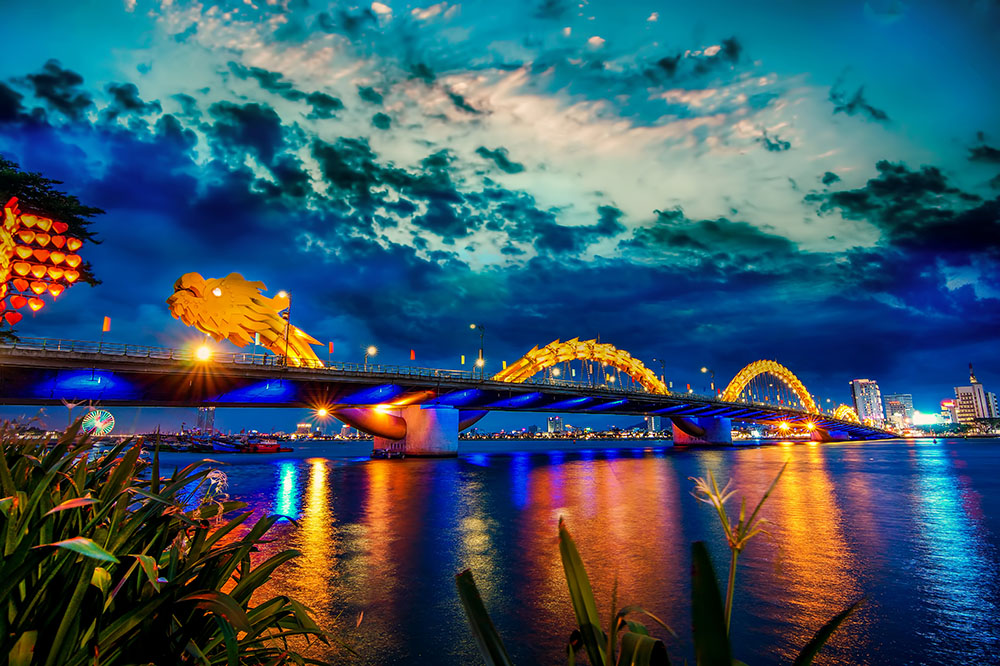 End an evening in Da Nang City with a stroll over the famous Dragon Bridge – if you're there on a Saturday or Sunday be sure to stick around to watch it breathe fire and water at 9 pm!
SHOPPING
Explore Con Market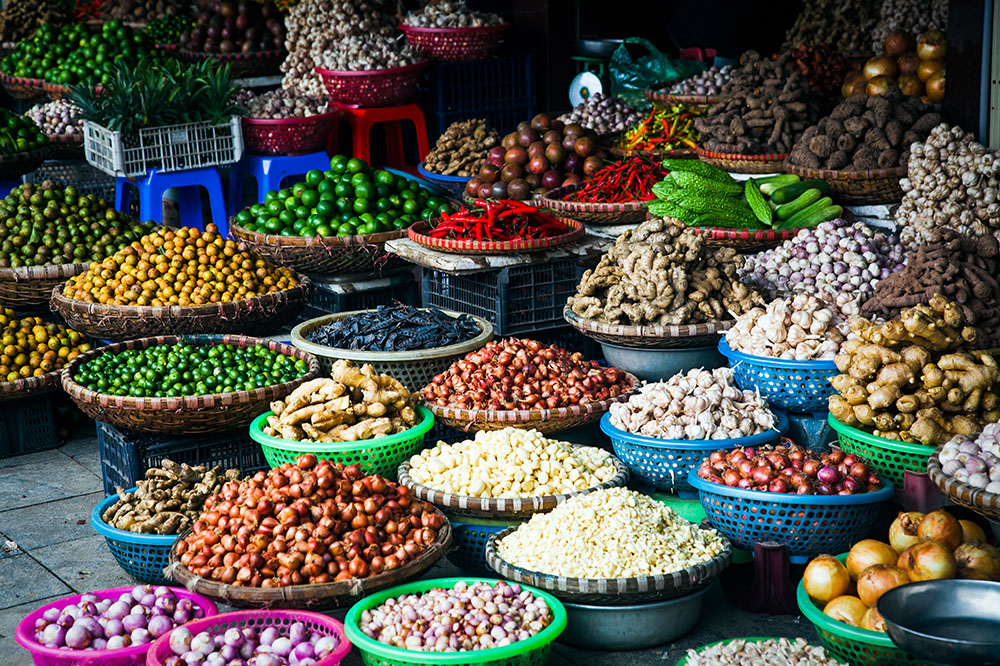 Visit the largest and busiest wholesale shopping venue in Da Nang, Con Market. This buzzing market has over 2,000 stalls selling local food, handicrafts, clothes, and tailoring services. Explore the three storeys of stalls, watching locals haggle and trade.
DAYS OUT
Son Tra Peninsula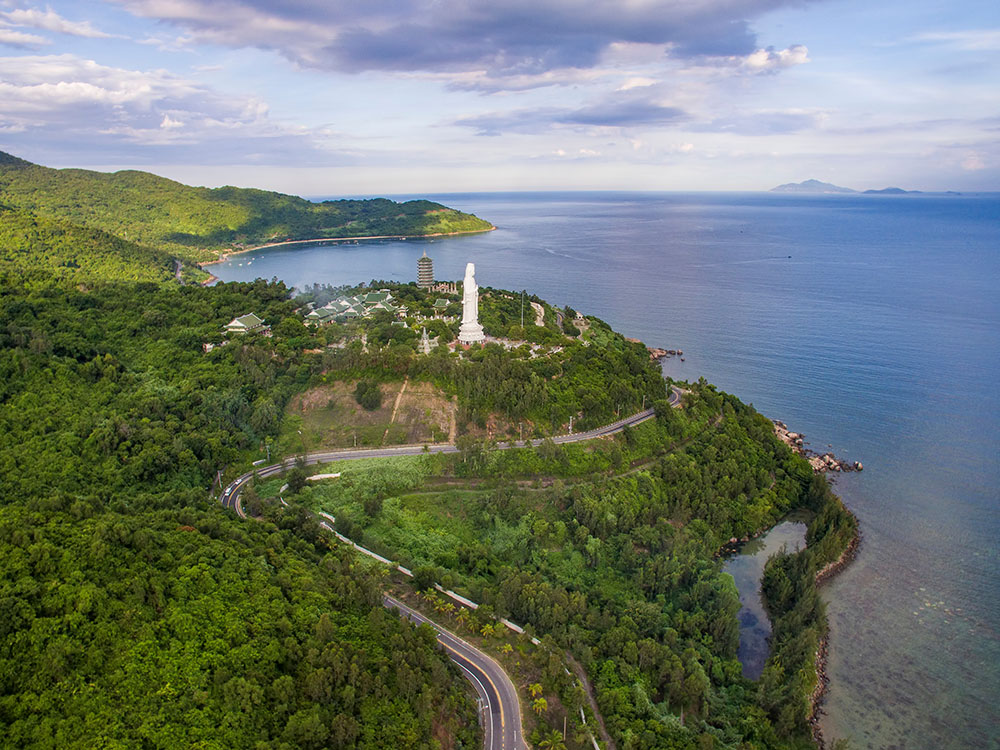 Whilst you're in Da Nang, be sure to spend at least half a day at the breathtaking Son Tra Peninsular. This breathtaking national park is 10km from the centre of Da Nang City and boasts long, white sandy beaches with beautiful views over Da Nang City.
Whilst you're here, be sure to see the Lady Buddha inside the Linh Ung Pagoda courtyard – it's impossible to miss from My Khe Beach. With a height of 67m equivalent to a 30-story building. Make the most of your time at Son Tar by also going up Son Tra (Monkey) Mountain & Ban Co Peak for panoramic views over the city, Hai Van Pass, Ba Na Hills & Cham Islands.
Brave Hai Van Pass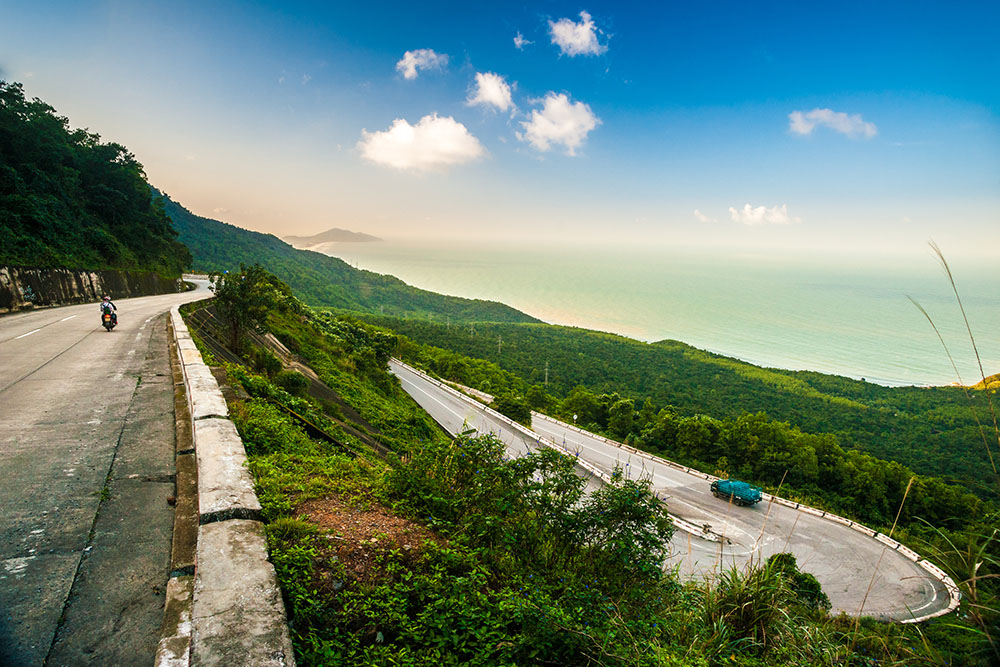 The Hai Van Pass is undoubtedly one of the top attractions in Vietnam. It sits at around 500 meters above sea level, making it the highest pass in the whole of Vietnam. It was made ever more popular amongst tourists after its appearance on Top Gear, who dubbed it 'one of the best coastal roads in the world'.
Brave the infamous 13-mile-long winding roads and enjoy panoramic views of Da Nang City itself and the South China Sea. On the pass, there's even a fort that was built during the French colonial period and used as a bunker during the Vietnam War by American and South Vietnamese troops.
If you're brave enough, rent a one-way scooter for the best experience, or book a 3-hour coach journey. 
Hai Van Pass can also be experienced on the train from Hue if you don't fancy braving the notoriously winding roads. Plus, this is probably one of the most relaxing and scenic train journeys in Vietnam with stunning views of the coastline.
Take a Trip to Cham Islands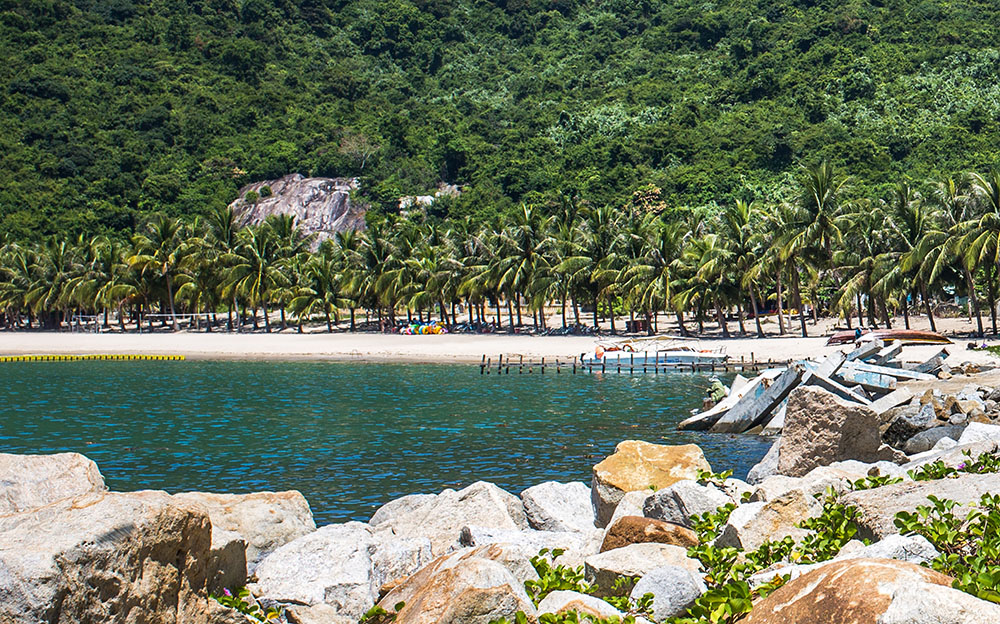 Escape Da Nang City for the day to Vietnam's national scenic site, the peaceful Chàm Islands. Between the 8 islands, enjoy water sports like kayaking and swimming, diving and snorkelling amid beautiful tropical coral reefs, and attraction sites. Hòn Lao, the largest and most popular island, has tranquil beaches, marine exhibits at Cham Museum, and tiny Buddhist temples. 
There are also traditional fishing villages to explore and rustic homestays and seafood restaurants around the pier. The best time to dive or snorkel at Cham Islands is between June and August for calm waters & visibility. Cu Lao Cham Marine Park is recognised as a global Biosphere reserve by UNESCO and has a thriving coral reef system and marine life – perfect for diving!
Explore The Marble Mountains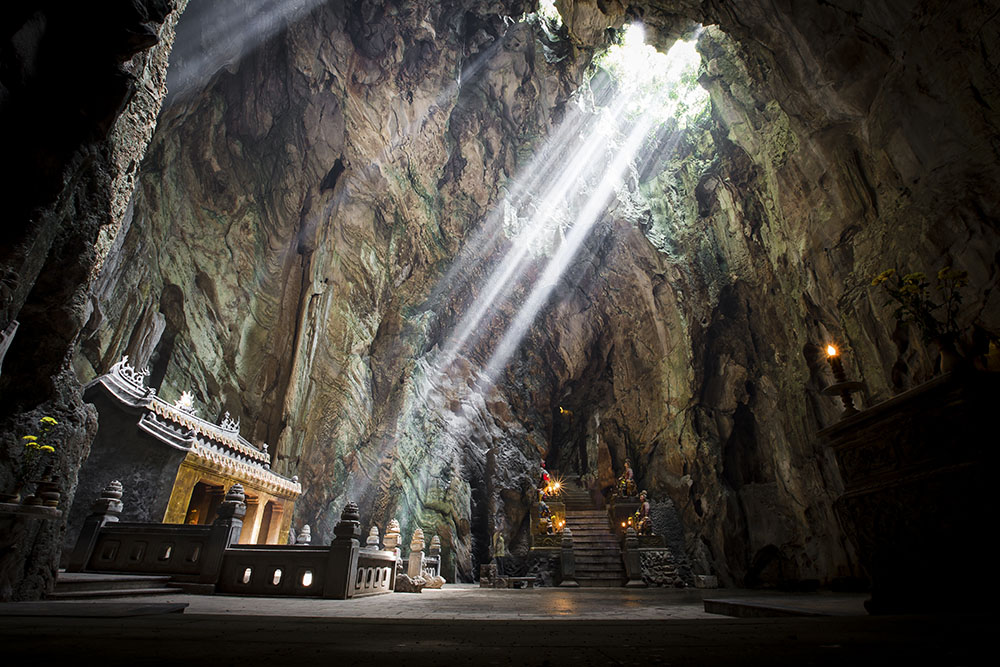 Image credit: Dr_Flash / Shutterstock.com
The Marble Mountains of Da Nang feature a cluster of five sacred limestone hills and marble carvings. Its believed that they sprouted from the eggshells of a dragon. Its hillsides are scattered with Buddhist pagodas and temples and populated by red-faced monkeys. Enjoy the unbelievable panoramic views of the city from the top.
Tour My Son Holy Land
Lovers of architecture and ancient civilizations will enjoy a full-day tour to the South of Vietnam to explore one of Southeast Asia's greatest archaeological sites, My Son Holy Sanctuary. A cluster of partially ruined Hindu temples that have long been abandoned, though once a thriving religious site of the early Champa tribe, dating back between the 4th and 13th centuries. Recognized as a UNESCO World Heritage Site, the sanctuary features stone sculptures of Hindu deities and towers amid the tropical jungle.
Hoi An Day Trip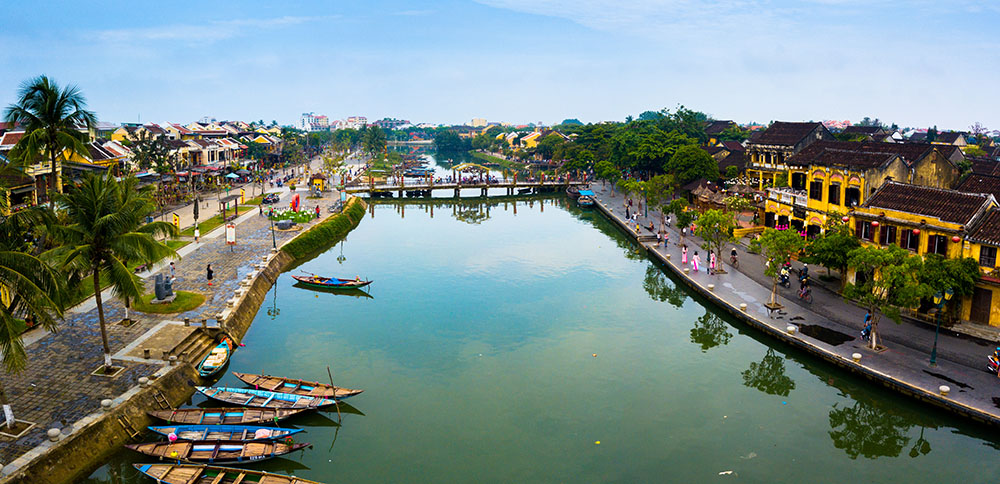 Just a short and sweet 1-hour coach journey down the coast from Da Nang is the charming town of Hoi An. Perfect for a day trip, this ancient coastal town has history, beauty and endless wonders to spare (not to mention being a foodie's haven).
With its relaxing vibe, and lazy river lined with mustard merchant houses and endless colourful silk lanterns, it's no surprise that Hoi An literally translates to 'peaceful meeting place'.
Cham Museum of Sculpture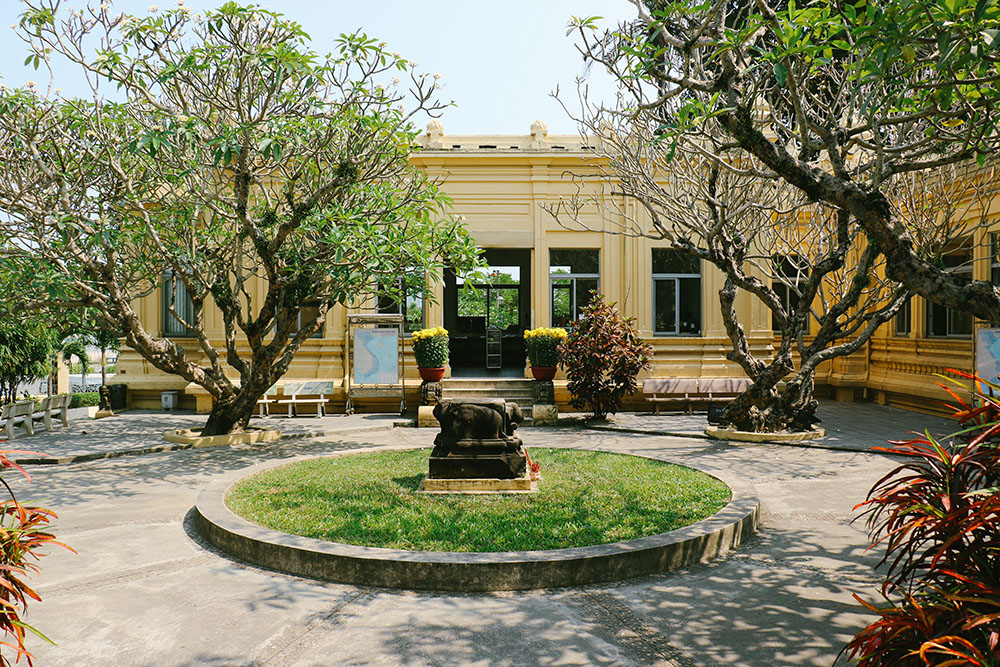 Image credit: lulu and isabelle / Shutterstock.com
This small but important museum by Han River offers an insight into the Cham culture with statues & relics. The Kingdom of Champa governed South Vietnam from 192 – 1697. Here, you'll find the world's largest collection of Cham artefacts. The audio guide is 20,000d (you'll need to show ID, passport or driving licence).
Visit Asia Park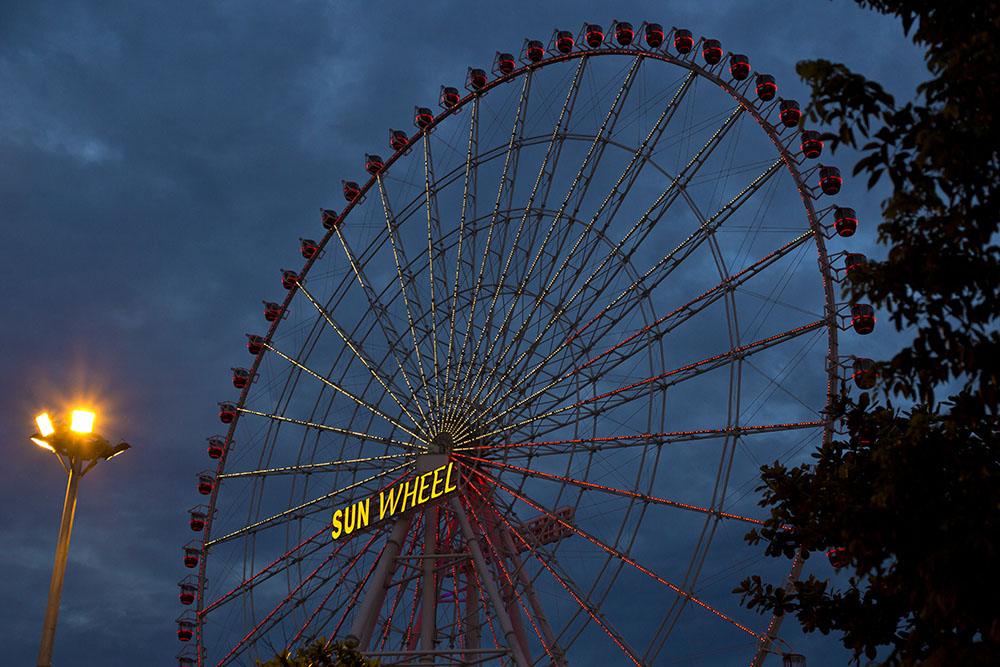 Image credit: BenBdProd / Shutterstock.com
Asia Amusement is the largest tourist destination in Da Nang city with a diverse entertainment complex. It's not hard to miss the huge Ferris wheel glistening over Da Nang City – this is the main attraction at the park. Be sure to ride the wheel to watch the sunset over the city.
There's also a really good selection of adrenaline-boosting rides to choose from, perfect for all ages. There's even an Angkor Wat replica in the park. The entry cost for adults is 150,000 VND and 100,000 VND for children.